Collecting Action Figure Tips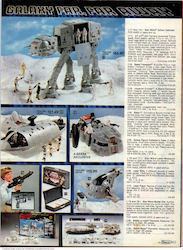 There are a few ways you may start collecting action figures. Perhaps you just liked something that you saw in a store or online and this unknowingly led you down a rabbit hole. Sometimes it's to scratch that nostalgic itch that brings you back to your childhood. Either way, here are some tips to get you started.


Types of Collecting
There are two main ways you can collect: loose or packaged. Loose action figures, generally, are going to be cheaper than buying figures in their original packaging. This is especially true for vintage figures, as you can imagine, keeping the plastic/cardboard packaging intact over decades is a pretty hard thing to do. Especially since most kids would have torn through the packaging and promptly discarded it in the trash. Only those never gifted figures in someone's attic were unknowingly preserved. Loose figures will have varying degrees of value depending on if the figure includes its original accessories (gun, cape, etc).

The other facet, for vintage figures, is if they are graded. The most popular grading company is CGA. Some collectors prefer to purchase figures that are graded because they have some sort of insurance that the figure is not a reproduction and is original. However, others are vehemently against grading because it requires encasing a figure in a plastic tomb. As with most things in life, do what makes you happy, but no you will generally pay more for graded figures because the cost of the grading process is passed back to the consumer.


Displaying your collection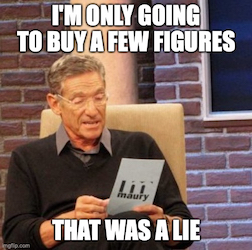 Collecting, as the name implies, can lead to a lot of really cool stuff that sits in cardboard boxes in your closet. Displays and dedicated spaces are a great way to showcase your collection. There are various ways to do this: Store bought display cases. Popular is the Ikea Detolf cabinet with glass shelves. DIY made displays can be made pretty cheaply if you have basic tools and woodworking skills. If you're willing to spend the money, you can also buy some awesome looking custom displays.

I would not recommend thumbtacks to display your collection on your wall because they often will fall off over time either from the thumbtack getting loose or the plastic hanger unseating itself from the packaging. A simple shelf would be better.


Completing a Collection
Obviously, this site is a great place to understand which figures make up a collection, but there are various social resources as well. Facebook Groups are probably the most popular way to get involved with a community of collectors and usually are pretty genre specific. Some collections are numbered, which makes it really easy to collect. For other collections you may have to use checklists and guides to help you complete your collection. You may also have to consider variations which could be released purposely or unintentionally by the manufacturer. For example, an incorrect painting scheme on a figure that was later fixed in a subsequent production run.


Buying
Be cautious when purchasing figures online. If you buy from someone you meet on a FB group or social space (like Reddit), the most popular way payment form is through PayPal. However, never pay with the Friends & Family (F&F) option as you have no recourse if the person is a scammer. Always use Goods & Services (G&S). While this will add 3% fee to the transaction, it's the safest option just in case they never send you what they promised, you can have your money refunded. Generally, never use F&F unless they are a friend or family (and even then, be careful!)

When buying on eBay, read the description of the product carefully and check the photos. If the seller is not providing enough info or photos, you can contact them for more info. Generally, if the deal seems good to be true, it probably is. I also check to make sure the figure is coming from a smoke-free home. I never heard of problems from a home with pets.

Garage sales/Estate sales are also a great way to find action figures. They often can be wiped out in an hour after they open, so you might have to be diligent about getting there first. Check Facebook Marketplace and Craiglist for garage sales in your area. Also, bring cash.

Be aware there are knockoffs/reproductions and most likely they will ship from China so be especially wary of items being shipped directly from China. Sometimes they will say "PVC" in their title as well. When buying loose action figures WITH accessories, carefully read the description to see if the seller states if they paired the original figure with a KO accessory (eg. blaster). The Imperial Gunnery is the definitive guide for identifying authentic vintage star wars weapons and accessories.

For new action figures, there are a lot of online places. Not an exhaustive list, but the major online retailers including Walmart, Amazon, Target, BestBuy and GameStop. There are also great stores dedicated to collecting modern action figures where you can also buy by the case: DorkSide, Entertainment Earth, BigBadToyStore, Toywiz, Star Action Figures, PixelAToy, Sonner, PowerAction, OutRun, Big Apple. Don't forget the manufacturers that sell direct as well: McFarlane, Hasbro, NECA, Super7 and Playmates.

ActionFigure411 also has special guides to help you always find the lowest price. Star Wars Amazon Prime and Scalper Cantina. Marvel Amazon Prime and eBay Aggregator. G.I. Joe Classified Amazon Prime. Masters of the Universe Amazon Prime. TMNT Amazon Prime. Transformers Amazon Prime and eBay Aggregator. DC Amazon Prime.

Sometimes action figures are available for preorder. When organized correctly, a specific day and time is announced. Be sure to check the timezone as they could alter between PST and EST. These preorders can sometimes be very competitive and literally sell out in the first minute. You can increase your chances of securing an item by making sure that your account is already setup. For example, if the preorder is from Target, ensure that you are logged in, username/password saved in your browser (just in case you get logged out or must reauthenticate), have your default shipping address already set and credit card on file. Basically, you want to ensure the only thing you need to do is add to cart and one click checkout. Extra tip: sometimes you will be asked for your credit card's security code so make sure you have that handy as well. Like I said, every second counts.
Selling
A term that is often used in the collecting community is "scalper". This basically describes someone that purposely buys action figures to immediately resell for profit (normally on eBay). Typically, if an action figure is selling for $20, they will purchase and sell on eBay for 2-3x the retail price. This obviously infuriates a lot of collectors, but there is really nothing that can be done and is ingrained into most genres you will try to collect. Most Facebook Groups will discourage this behavior and have strict rules on how much you can sell "new" items for. e.g. Retail Price + Shipping.

ActionFigure411 provides price history graphs for over 5000+ action figures so please use us as a benchmark to get a fair price for the item you are selling. However, understand that the market can fluctuate greatly. For example, a figure might have great value, but then it's re-released and the price will drop.

Similar to buying, always ask for payment via G&S in PayPal. Also, do the right thing and ensure you are open and honest about what you're selling. Specify if there is any damage to the item packaging and always ship in a sturdy box with plenty of protection (bubble wrap, etc). I have seen items packed in a cereal box and you can just imagine the condition they arrived.
The Thrill of the Hunt
Some collectors prefer to find items in brick-and- mortar stores (vs online). There is nothing more thrilling than seeing a freshly stocked shelf of action figures. It's not uncommon to plug in a 3-4 store loop to your maps app and check what's new. The trick is knowing when the store gets their delivery and when they put them on shelf. Over time, you may see a pattern of when items are stocked that you can use for your advantage. Sometimes, you may find a pallet of cardboard boxes near the aisle where they will be racked. You may be tempted to open the case yourself, but I would recommend checking with someone in the store first. There could be a chance they are not ready for sale.

Sometimes the action figure you are looking for is not out yet but may be in the "back" of the store. You could check with a store clerk, but try to have the UPC, DPCI if it's Target, WIC if Walgreens or SKU if it's Walmart. That will help the store clerk lookup the item in their system. It's hit or miss if they actually look "in the back" but being kind and appreciative never hurts.

SOME collectors might try to hide figures in the actual store so they can pick it up at a later time. You may want to check behind some of the bigger items or even under the shelf.
Tracking your Collection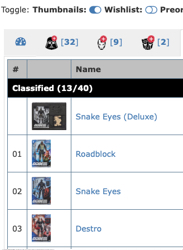 As your collection grows, you'll want to start tracking what you have and what you need. This could be as simple as spreadsheet which tracks the action figure name, where you purchased it, when you purchased it and the price you paid. You can also track your collection here. The added benefit is that we'll provide the total value of your collection and it's totally free.

Another benefit of tracking your collection is remembering what you preordered! In a post covid world, it's not uncommon to order an item and receive it nine months later. Sometimes this is a nice surprise, but also can be a shock if you suddenly get a charge on your credit card that you're weren't expecting.

Finally, collecting can be a lot of fun but also very addictive and quickly go off the rails. The nice part of collecting, unlike other hobbies, is that you can always sell off items you get tired of and recover some or all of your original expenses. I would not collect to earn income. While some action figures can be worth a lot of money, those are usually items that are over forty+ years old and somehow have survived the test of time. Invest in index funds and collect toys for fun, because at the end of the day, we're all trying to relive those magical moments of our youth.
Important Jargon
MOC/MOSC: Mint On Card/Mint On Sealed Card.
MIB: Mint In Box
AFA/CGA: These are figures that are graded by a third party for authenticity and determine their value. High rating > more value
Completionist: One who tries to collect every variation within a series.